On another thread, Dean Robbers posed the following question to me:
Gadianton

wrote:

↑

Thu Aug 27, 2020 5:03 pm

Anyway, I have a more serious question for the BHR professor.

You mention Smoot's dressing, but photos of several apologists feature suit-wearing. Is Smoot's "GQ" dressing representative of apologetics? If not, could you point out some differences in dress style between Smoot and other apologists, for the benefit of those of us without your trained eye for style?
Well, as you know, I will of course comply, even if I may have some reservations about undertaking this particular analysis. Ahem. In any event: yes, it's true that suit-wearing isn't uncommon amongst Mopologists, but sartorial adroitness is really a matter of attention to detail. Sure: anyone can wear a suit. But does the suit actually fit? Have you bothered to have it tailored? And what about accessories? Pocket square, or no? Sprezzatura? Nice watch? Does your belt match your shoes? And what sort of knot do you use for your tie? Half Windsor? Four in hand? Are you down for peaked lapels? French cuffs? And so on. Most of the Mopologists give about as much attention to these things as most men, which is to say: not much. But there are different variations on this. Take the late John Tvedtnes, for example:
Dark suit with a jacket with a fairly deep gorge, paired with a dark shirt (is that purple?) and a dark necktie. And my God, those are some wide lapels. This sort of fits: I mean, he looks like the guy who will haul you to the back of the casino in Vegas and will beat your hand to a pulp with a ball peen hammer because you've been caught cheating at blackjack. So, if he was trying to project an image of "Mopologist thug," or somebody who's been summoned to appear before a Senate subcommittee, then he sort of succeeds. (Hey, John: South Philly called, and they said that the bodies in the U-Rent shed are starting to stink.)
Or take a look at Stan Barker: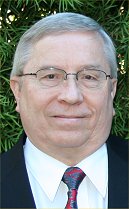 Look at the downright jagged points on that shirt collar, and why the hell is his tie knot so tiny? It looks like his shirt and tie are so tight that they will one day pinch his head off of his body. That image, by the way, is the reason why I once dubbed Barker the "Humpty Dumpty" of Mopologetics. There is just something "egg-like" about him.
Let's not forget Greg Smith, who always looks like he's still wearing the same ill-fitting suit that his mom bought him for his mission:
Do you notice how all of these guys opt for dark jackets? In some cases, it gives them the air of a funeral undertaker. Or just a typical Mormon man. Another typical example would be John Gee, who always has terrible, terrible neckties, like the one in this image:
Slightly different is somebody like John Welch, who sports a "Mopologist Attorney" look:
It's a somewhat more "monied" look (notice the sheen of his tie, and I bet he's got a nice watch. Rolex? Breitling? Patek Phillippe? You can catch a
glimpse of it here
, but it's tough to tell in the video), but still pretty basic, and he's clearly trying to avoid the appearance of being ostentatious. His style seems derived from the typical dress of the Brethren. He ought to be ashamed of the shoulders on that jacket, though--look at how much it's jutting out from his actual, physical shoulder. You could argue that it's true to "American style," or you could just admit that it's sloppy, and that it demonstrates a lack of attention to detail.
And then you encounter the occasional surprises, such as this photo of Allen "The Slug" Wyatt:
The yellow shirt is actually a really nice touch--it provides that "pop" (yes, I know, please pardon the cliché) of color, and it has the added bonus of making him seem less pallid. In addition to running an entire foundation with no compensation and not even any "Thank You"s, Wyatt can say that he at least knows how to throw together a decent outfit.
In any case, Dean Robbers, I hope I've fulfilled the task that you've assigned to me. In the meantime, we should set up an appointment to talk about that sabbatical you've been promising me.