Maybe it's just me, but I feel like one of the lesser-discussed dimensions of the coronavirus pandemic had been its impact on the motion picture / television industry. Sure, you can see signs of the impact in the form of the recent "stay at home" version of
Saturday Night Live
, which is really just Zoom, but SNL people are doing it and making jokes.
But, of course, communal venues such as movie theaters have been completely shut down. Large-scale Hollywood productions' release dates have been pushed way back, such as the new James Bond film, which should have opened this month, but instead has been postponed until October (last I checked, at any rate). And I have been fretting quite a lot over the release of the movie I've been anticipating the most this year--i.e., Denis Villeneuve's
Dune
. Will it come out in December, as planned? And will I be able to see it on the big screen?
Indeed, that's no small matter for the true cineaste. You've probably heard noteworthy filmmakers like Christopher Nolan and Martin Scorsese passionately extolling the importance of seeing films in a theater; I believe it was Truffaut--or perhaps Godard--who said that the most beautiful thing he'd ever seen was the sight of an audience of filmgoers, sitting there in the dark, with their faces all turned up to the screen, illuminated by the projected light.
Which brings me to my main question. What will become of the "Witnesses" movie? Just as the pandemic struck, Dr. Peterson and his "P.R. Team" were allegedly "shifting into high gear." Remember how they basically
insinuated themselves into the LDS Film Festival?
In any case, I've been struck by the fact that promotion for the film has basically come to a standstill. It's as if Dr. Peterson no longer cares about it; it will apparently suffer the same fate as all the book projects he's tried to complete over the past decade-and-a-half or so.
Then again, more than $1 million were invested in the movie. I would imagine that the donors are expecting a finished product, even if they're willing to accept that the whole "event" aspect of the movie just isn't going to be what it would have been under normal circumstances. And sure: there could still be a sort of "gala premiere" for the movie: Dr. Peterson could host a Zoom meeting from his house, where he saunters down a red carpet rolled out in his living room (how and in what ways is it different from "Sic et Non," I wonder? Does his actual living room smell like the outhouse on a shrimp boat?), wearing a tuxedo, and someone flashes strobe-like lights onto him, so that it looks like the Mopologist paparazzi are taking pictures of him. (Tell me, Producer Peterson: Who are you wearing this evening?" "Uh, Mr. Mac. Duh!") There are lots of possibilities here. They could clink flutes of Martinelli's, and share jello canapés and ceremoniously dip French fries into fry sauce, and then trade bits of brownie. It would be better than the food at the Oscars' Governor's Ball, which is usually just Liberal crap like kale salads!
Fun to imagine, anyways, right? Sure it is. Still, I think that even Nolan and Scorsese would admit that there are movies that were never really destined for the big screen. There are even sometimes movies that *were* destined for the big screen, but which have had to make other plans thanks to the pandemic, such as the Disney release,
Onward
: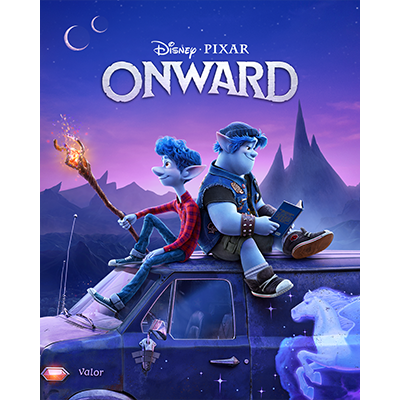 It seems fitting to me to compare the
Witnesses
film with
Onward
. One is a goofy animated movie with a sweet message, and the other is...Well, like I said: some movies just aren't intended for the big screen. And you have to admit that it would be a fitting end to this "Witnesses" project to see it go straight to video--that's how I've always envisioned it, anyway. It would thus join legions of other amateur filmmaking efforts that never managed to secure a theatrical distribution deal.
At the end of the day, this is a real dilemma for the Mopologists. They've been touting this film for ages, and have invested a significant sum of money in bringing it to fruition. So, do they play the waiting game? Is this thing still supposedly going to screen in an actual theater in Provo in October? There is a risk in continuing to plan for that. If that doesn't work, how long will the premiere be delayed? Clear into 2021? Spring, traditionally, is not a good time to release big-deal movies (then again, neither is October: somebody failed to do their research). So what do they do? I am going to go out on a limb and predict/hope that we get a direct-to-video "Witnesses" movie. Hey, maybe the Brethren--who are alleged to be huge fans of this project--will be anxious to deliver something edifying and uplifting to the Saints, and so they'll order that this thing gets slapped onto the BYU channel. I admit: I'm really hoping that will happen....