Most of these were done around 20 years ago, give or take, with exceptions noted. This is an EXTREMELY small sample of the stuff I've done over the years, consisting only of some of my favorites. The vast majority of all the art I've done has either gotten lost or found its way into the trash can, one of the two.
I was also the cartoonist for my High School newspaper during my senior year, but those count as cartoons (by definition) rather than illustrations, so I didn't bother scanning any of them. I'm sort of worn out from all the scanning, resizing, uploading, etc., so I don't really feel like tackling those anyway.
As you view these, keep in mind that NONE of them were traced, copied, etc., and never at any time did I use a model. ALL of these are 100% freehand.
Anyway, here's the first example. On my mission one day I got the urge to doodle and reached for the first empty page I could find. I swear I didn't notice the header at the top until later:
Here's another picture I drew when I got the urge to draw something. This was about the time I got really interested in World War II. I wasn't planning on churning out anything worthwhile, hence the classroom-style ruled paper as the medium. What do you know, it turned out to be one of my favorites:
I did this one back in High School one day when I was waiting for Algebra II to end. Another one on ruled paper that, lo and behold, turned out pretty well: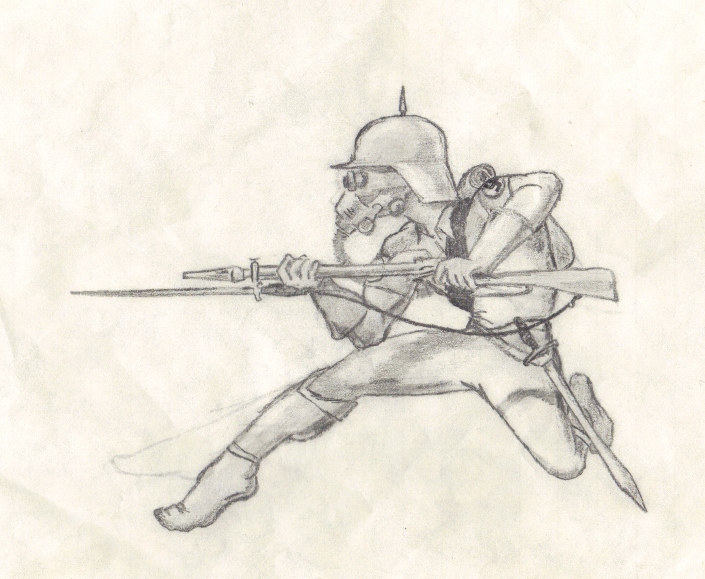 Just like the previous two, I did the next two when I was High School-age as well. I began liking the idea of a military aircraft with rear-mounted, forward-swept wings. Here's the result:
This one was done after I honed the design a little better:
This is one of my rare colored drawings. I dreamed up a fictional dictator that always kept his face veiled so he could move about unhindered if necessary. As part of the backstory, for his crimes against humanity, he was crucified rather than hanged:
This is my oldest one. I probably did it no later than ninth grade, which would've put it at 1983-1984 at the latest. Back then I was still into Dungeons & Dragons. Here's a fictional (obviously) female half-elf thief escaping the authorities by leaping from roof-to-roof. Admittedly, not one of my better examples: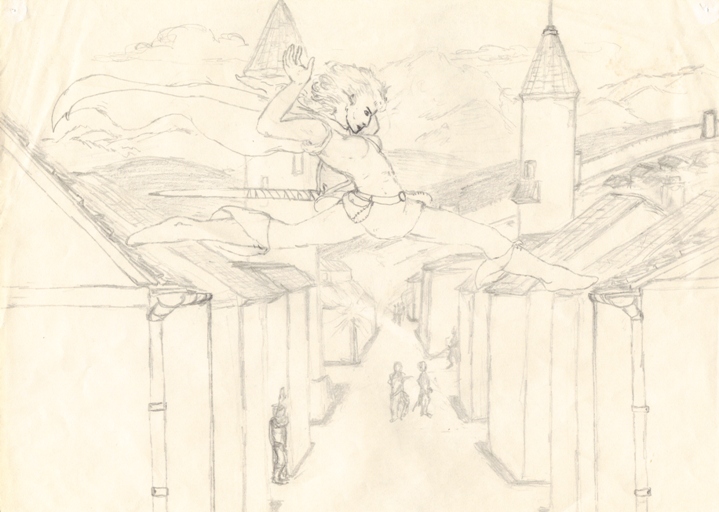 This is a picture of what I envisioned that a footsoldier in the 2040's might look like. He's holding a flamethrower and, although it's hard to see in this scan, he's shooting fire: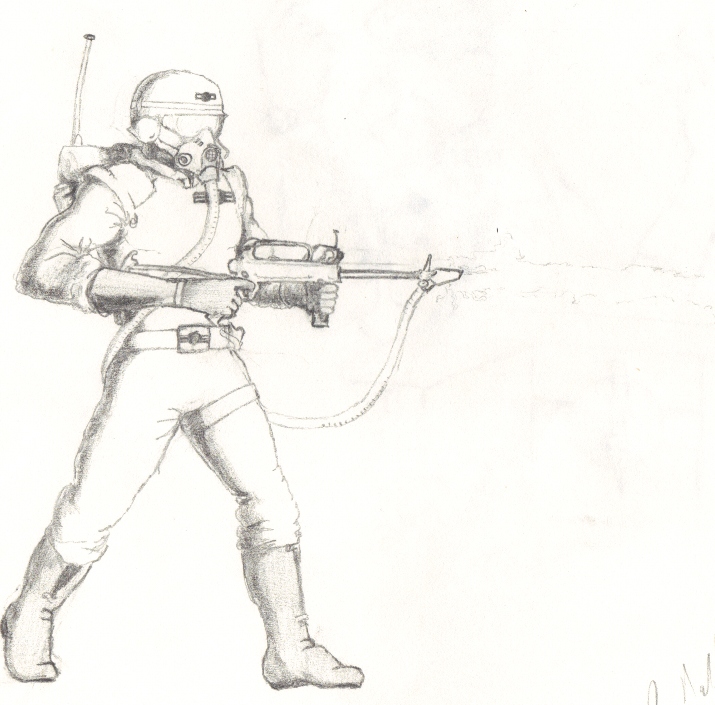 These next few are far, far more recent. Back in 2005 or so, Keene and Bryan Inks commissioned me to create some T-shirt designs for them. This is for their shirt called "Jesus Loves You:"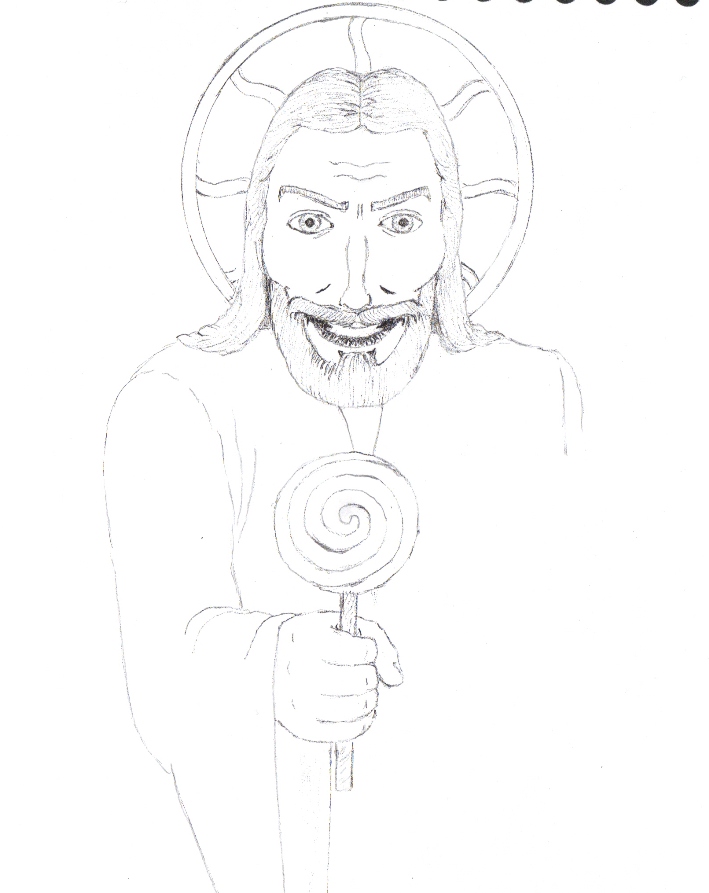 This next one is for their T-shirt called (what else) "Hold To The Rod:"
I can't remember what T-shirt this was supposed to go to, but it's obviously Jesus on the cross. I thought that they could generate a much better cross on the computer than I could freehand, so I left that part (and the actual nails) out. I unfortunately drew it too big, so I couldn't fit His feet at the bottom, so I drew them off to the side so that Keene & Bryan could copy-and-paste them into place later:
This is for their shirt called "My God Can Beat Up Your God." It features, of course, Cthulhu and Jesus:
Saving the best for last, this is a cutaway of my finest drawing ever, done back in late May of 1988. It's part of a much larger, 13 x 20 sheet, but unfortunately my scanner can only pick up a little over 9 x 11. Therefore, I had to fold the remainder over the sides, so the cover couldn't quite shut and thus a lot of light crept in. Hence the reason it's darker and quite a bit blurrier than the others.
Maybe I should use a copy machine and reduce the whole thing to a scannable size, since so much of the detail got cut from this image. The background is a World War I battlefield, and all the battlefield detrius in the original is missing: The trenches, the sandbags and barbed wire, the knocked-out tanks, the half-buried skulls, helmets, and gas masks, etc.
That said, here's my masterpiece:
I hope you liked them!
--Shades