Doctor Steuss wrote:
It's kind of weird that something so trivial and silly would be the catalyst that made me realize the extent of the Russian operation; but, when I found a reference to this float buried in one of Mueller's first indictments against Russian operatives, it was a "whoa-Nelly" moment for me.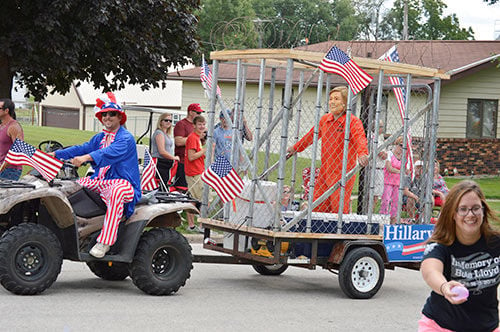 (Russian operatives made this cage/float, and paid an American citizen to dress up in Hilary prison gear during the campaign.)
I was having a Poe's Law moment, but you weren't kidding:
https://littlevillagemag.com/iowa-clint ... ndictment/
"On or about August 18, 2016, Defendants and their co-conspirators sent money via interstate wire to another real U.S. person recruited by the ORGANIZATION, using one of their false U.S. personas, to build a cage large enough to hold an actress depicting Clinton in a prison uniform."
And funnily enough:
Quote:
The Russians wanted the cage on a flatbed, so it could be paraded at rallies in Florida. But by the time the trolls were reaching into their bank account,
three Iowans had already rolled out a smaller version of the cage float at a July 30 parade celebrating the 100th anniversary of the city of Arcadia's fire department
.
Lol. What?
Quote:
Julin and his friends even came up with a gimmick the Russians don't appear to have thought of:
they passed out water balloons for parade-goers to throw at the caged Clinton impersonator
.
The Times Herald described a "young blond boy, no more than 8 years old," having the "prideful smile of a job well done" after throwing a water balloon at the cage.
We. Are. In. A. ____. Simulation.
- Doc