Maksutov wrote:
...
If Jesus was crucified on the eve of Passover, that evening there would have been a full Moon, the very opposite of what is required for a solar eclipse.
as we have the "julian date", we know all data for lunar or solar eclipses, from January 1, 4713 BC - before any dates in recorded history, even chinese ones; to the far future in 7980 years long periods (no date for any apocalypse)
-
https://en.wikipedia.org/wiki/Julian_day
-
Maksutov wrote:
Some random preachers...
the wikipedia entry contains some math (complex formulas with magic words as "mod" and "div"); ununderstandable by random/average preachers
Maksutov wrote:
...are claiming that the coming total solar eclipse in the United States indicates God's judgment on America
up to now i used to believe america is one nation under god
did it change?
fyi
there is a windows program (i've said program, not the stupid today's word "application"...) :
moontools.exe
you can download it (& learn a lot) from -
http://www.fourmilab.ch/moontoolw/
-
it is not virus infected, as it was developed in the windows 3.10 times
Quote:
Moontool was originally written for the Sun Workstation under the SunView graphical user interface by John Walker in December of 1987. The program was posted to the Usenet news group comp.sources.unix in June 1988 and was subsequently widely distributed within the Sun user community. As the original posting began, "What good's a Sun without a Moon?".
screen example:
-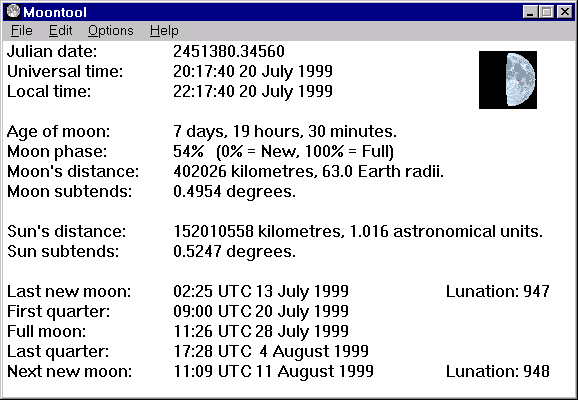 -