Franktalk wrote:
Can we view layers of heaven as representative of layers of man as a type? There may be some connection. So I will just speculate about such things not knowling if they are true.

On the earth we have the set of man. Next we have the chosen people. Next we have the believers within the chosen people and those grafted in by faith. Then we disciples. Then we have Apostles. Then we have the inner group, Peter, James, and John. Then we have the beloved of God which is Daniel and John. This makes seven layers. Now I ask myself if this is a pattern on earth for us to see and is this patterned after a structure in heaven?

Some believe there are seven layers of heaven. I would be surprised if there were not seven layers. And seven layers inside of those layers. That of course brings us to 49. But 50 is unique in Jewish tradition. Can this be a place where Father only can go? Just some thoughts.
Indeed Frank, seven is significant! Not just in the Judaic/Christian tradition, but also in many other traditions.
There are seven layers of each person, seven layers of celestial bodies, seven layers of heaven. Seven means completion - pointing to a completion of a cycle of purification, and so seven times seven is the completion of all cycles of purification. After the cycles of completion is the 'World-to-Come' in Judaism, the 8th Heaven in my tradition. This is indeed the Father and can only be reached through ascension. The Father is transcendent of his creation, but in reality, what Yeshua/Jesus revealed, is that the Father is within and behind all heavens, all layers. So one can look at it as a ladder (Jacob's ladder for example upon which the Angels ascended and descended), or one can look at as the essence and Source of all things.
The 8th heaven is like the pure light before it passes through a prism and becomes - what do ya, know, seven colors making a rainbow. Each heaven is associated with one of those colors.
And yes, it is layers of 'Man'. We are comprised of these same seven layers. Eastern traditions call them chakras, we call them energy centers - layers of us that must be purified so that the 'rainbow' is united, integrated, perfected as a single Unity.
To put these energy centers into something everyone can grasp, we are talking about layers of our emotional or vital body and mental body, and supramental (before mental) body.
When we have been perfected, we are 'Jacob's Ladder, a True Human, the Human One, upon and within whom the Angels ascend and descend through the heavens, for when we are perfected, our 'bodies' connect all the heavens.
Now as far as groups of people represented different layers eternally, indeed this is true, for groups of people will reflect different levels of perfecting or purification. If I might direct you to the temple of the Old Testament, and surely the Mormon Temple has tried to reflect this teaching as well.
In fact if we look at what was revealed through Moses, much mystery was pointed to, particularly the mysteries that we are speaking about here. If we consider the layout of the OT Temples, we will see that the physical structure looks very much like a human body, and the layers of functioning reflecting our journey to salvation, through our selves from the outer court to the Holy of Holies, the outer court being representative of the first heaven or first layer, the Holy of Holies the 8th.
Remember the Paul taught that we are the temples, so it would be logical that God was working to reveal this in the temple designs that he gave our fathers. In fact, my friend, you might be very surprised if you search with the key words that are arising in your thoughts through the mystical aspects of not only Judaism/Christianity, but all of our world's religions, you will find that they are all saying the same thing.
Here are a couple of images for you to consider: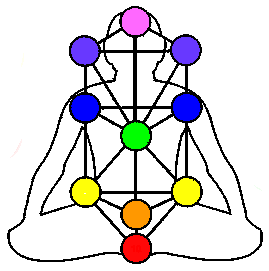 There are many mysteries pointed at in the Bible with numbers, not just seven - 12 tribes/disciples, 13 mercies/gates, etc. This are not simple numbers, marking a counting of years, etc, They are pointing to mysteries!
Back to 49 and 50, there are at least two places we find this in the Judaic tradition, one is the year of jubilee. Every 50 years, everything is set free and all debt forgiven. A full influx of Mercy!
The 49 days in between Passover and Shavout - the 50th day after Passover is Shavout. the 50th day after being set free, there was a full influx of mercy! [We teach that on this day, the Messiah was suppose to incarnate, but Israel showed that humanity was not ready.] This points to our freedom being the beginning of the process of perfection leading to our ultimate salvation - through countless cycles of purification - 7x7.
I pray that you find much pleasure in researching all this!
Shabbat Shalom!
Sheryl