Will Schryver wrote:
:
Chap wrote:
/snip rambling observations about the Dendera relief/
You are laboring under the false impression that these lion couch vignettes (there are many that have been discovered) manifest some kind of universal consistency in terms of the elements portrayed within them. They don't.
All three of the vignettes included in the published Book of Abraham are unique productions based on
generic
templates.
What
does
Schryver think he is saying that we don't already know? No-one disputes that couch vignettes vary. No-one suggests either that within the broad 'couch scene' genre there are only a few rigidly fixed types. Clearly there would be a continuum of variation from scribe to scribe, although some types of scene seem to be repeated over and over again in pretty well identical form:
Here's a slightly different one, in which Anubis is holding a cup (Maybe Lanny Bell was thinking of this one?
But let's get down to brass tacks. We have a damaged papyrus like this
Now in order to restore the missing portions, it is reasonable to look for a less damaged scene that has as much as possible in common with the damaged papyrus. The three scenes above are not very good candidates, since the figure on the couch in our specimen is not a wrapped mummy.
We need to find a scene in which the figure on the couch is more or less undraped, and has his legs apart somewhat raised off the couch, similarly with his arms. Now here are a couple that do fit that description, firstly the one from Philae (said to be from the book H. Rosellini, Monumenti dell'Egitto e della Nubia, Vol. III (Pisa, 1844), Pl. XXIII.)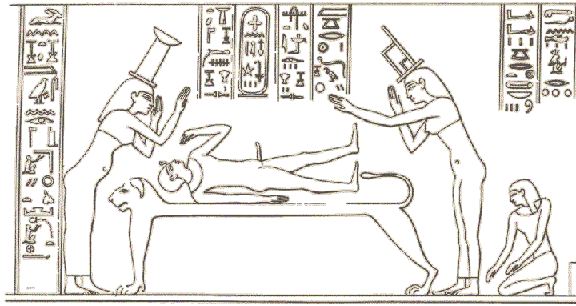 The problem there is that although there is the right kind of figure on the couch, the two attendant figures are not a good match for the single figure in the papyrus we want to restore.
But this one from the Dendera temple is a much better fit:
The figure on the couch fits all the surviving features of the damaged papyrus as well as the Philae image, but now the image of the single attendant also fits. Unless someone can find an image that is an even better fit, this is clearly the restoration to go for: an attendant with the jackal head of Anubis (no surprise, that), making a protective gesture over the figure, and (of course) the erect penis needed for the story of the impregnation of Isis, who must also have been hovering up there in her hawk-form.
There is a guy (Joseph Smith) who thinks we should restore it like this:
But his idea has real problems.
Firstly, can he produce another ancient scene with a human headed figure holding a knife over the undraped leg-splayed human figure on the couch? We have yet to be given a reference to one; although I think it was promised it has never been delivered..
Secondly, the 'Osiris impregnates Isis' scene shown at Dendera is a well-known story. Can anyone however produce an ancient Egyptian story in which the figure on the couch is in some way menaced by a knife-wielding human-headed figure? Yes, I know that Joseph Smith made up a story about that, but that is not evidence in the present case.
Says Schryver:
Will Schryver wrote:
Your strained conclusions are therefore nonsensical.

I wonder how many people will agree with him?
I repeat - no doubt the identification of the 'couch scene' with the impregnation of Isis by Osiris must be an old anti-mormon chestnut, many times refuted. Please can I be referred to somewhere where I can read that refutation?