CaliforniaKid wrote:
Will Schryver wrote:
You're obviously not aware of the most recent scholarship as pertains to this issue. I'm not surprised. Very few apostate Mormons have taken the time to explore these questions with any rigor.

In any event, that there was a human figure with a knife standing over the image of live person on the couch is confirmed by both contemporary eyewitness testimony and supported by modern non-Mormon Egyptological scholarship. That is why this constitutes such a unique lion couch vignette in comparison to other known instances.
Interesting. So some 19th century eyewitness specified that there was a human head? That would be
strange
, to say the least.
Also, which recent non-Mormon Egyptological treatment of the Joseph Smith Papyri are you referring to? Certainly not Lanny Bell's 2008 publication, which reconstructed the vignette as follows: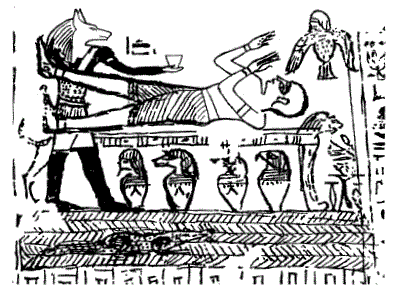 If I'm not mistaken, Bell is the one who contradicted the critical argument (Ashment and Metcalf, IIRC) that there wasn't really a second hand, but that it was a bird wing instead. There are remnants of the fingers of the hand on the surviving papyrus that Ashment and Metcalf said were feathers (or something like that) but Bell agrees with Gee who says they are fingers. So that is a confirmation of Gee and Joseph Smith.
But Bell can't come across as too overly pro-Mormon, at the risk of damaging his reputation in the field, so he arbitrarily decides (I say "arbitarily" because there is no surviving evidence to go on, on the papyrus) to finish the picture with an Anubis headed figure handing the guy on the table a cup of tea, or something like that.
Still, Bell agrees that the picture would have included a live person on the couch, and that makes the picture quite unique, from what I've read. IIRC, there are only one or two other examples of this lion couch scene that portray a live person on the couch. In fact, if I remember right, Bell uses one of those others as the model for his Anubis serving coffee, or whatever it was.
The questions I want to see answered are:
1. Are there other lion couch scenes that show a human headed Anubis figure?
2. Are there accounts of people describing the picture while it still belonged to the Smith's?

_________________


... she said that she was ready to drive up to Salt Lake City and confront ... Church leaders ... while well armed. The idea was ... dropped ... [because] she didn't have a 12 gauge with her.


-DrW about his friends (Link)