Pahoran wrote:
You cheap demagogues love to attribute group characteristics to the targets of your bigotry, don't you?
And just like Simon you toss out "bigotry" to divert and garnish sympathy... pathetic.
Pahoran wrote:
That's a lie, of course; I answered the question.
No, you are lying, as responding to a question doesn't constitute an answer. You responded to questions I didn't ask you, and failed to answer the question I did ask you.
Pahoran wrote:
I also don't need to swallow your packaged bigotry and let you dictate the terms of the discussion. I respond point by point; deal with it or suck it up, but stop whining about it.
And here is where the windbag needs to insert the same redundant sentiment over and over by breaking every individual sentence down to paint the ruse that you actually did answer the question... which you and Simon clearly have not, nor have you addressed the actual data presented.
Pahoran wrote:
Something you know nothing about. I answered the question honestly.
Note in the above how breaking down every response into individual sentences is how Pahoran plays the diversion game.
Pahoran wrote:
Snip gratuitous bigotry.
And yet again playing the sympathy card by using "bigot" to hide behind the ruse that you've actually said something worth reading... you could have answered the question, but you can't and we both know why. You're really nothing more than fodder without any substance.
Pahoran wrote:
You are projecting. If you don't want your dubious accusations questioned, don't make them.
Snip lies.
I wrote:
Of course
I know the answer: William Clayton wrote the original of that passage in the third person; it was later amended to a first-person account and included in the History of the Church.
And you falsely accused:
And once again, you failed to answer the question asked. I didn't ask who wrote it, I asked you who said it. are you claiming that William Clayton made up the "Ham" part?
Oh, I'm sorry. I didn't realise I was supposed to read it with microscopic pharisaical legalism. Had I known that, however, I would still have answered the question truthfully and honestly, instead of allowing you to set up an intellectually dishonest false dilemma.
Are you really this slow? I didn't ask you who wrote it down, I ask you who said it, and you once again just broke down the same sentences and repeated your lack of an answer. Is this question too hard for you... the data too compelling?
Pahoran wrote:
I must ask you to stop delivering your hypocritical lectures about "intellectual honesty," a phrase that encapsulates two concepts you know nothing about. If you did, you'd know that attempting to create a false dilemma as you have is the utmost in intellectual
dis
honesty.
Note to anyone with an ounce of intelligence... look at how many times Pahoran has attempted to dodge the question asked by saying the same damn thing over and over while needing support from others to agree with his lack of an answer.
Pahoran wrote:
The "I" is obviously William Clayton; he traced the plates into his journal.
We finally have the answer. It's completely wrong, but at least you finally answered the question. Since you didn't acknowledge the data, here the actual piece of Mormon history with the note stating who said the words.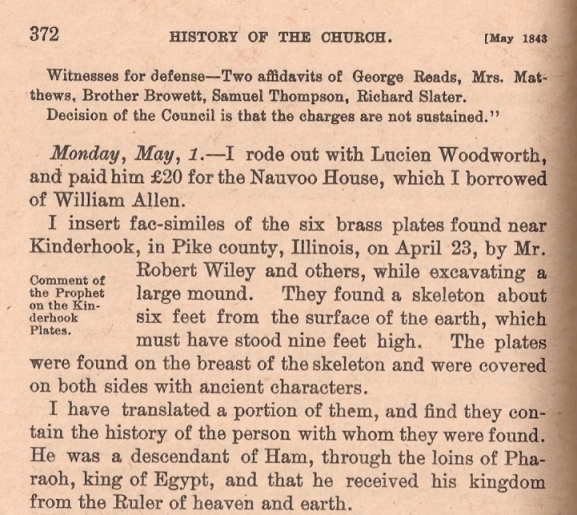 Do you see the note to the left Pahoran... the one that says "Comment of the prophet"... did you see that actual piece of data presented? Are you claiming William Clayton was
the
prophet? Do you have
any
data in support of your argument?
Pahoran wrote:
There is no "I" in the original version of that passage. That is the
only
"intellectually honest" answer, which explains why you don't want to hear it.
Please address the data and its source if you wish to make false claims on nothing but your imagination. Please link me some data that addresses your claim and not some Mormon site that supposedly contains your point that I must research. You are very good at quoting things, as you continue to break down every post into 20 responses that all say the same thing, so please use the quote feature and post your data in support of your claims. Here's a good source Pahoran:
http://mormonthink.com/kinderhookweb.htm
Pahoran wrote:
Another expression of your boundless bigotry.
We heard you the first four times drama queen. Once again, Pahoran, it's not necessary to break down a post into individual sentences and continue to say the same thing multiple times. Just wrap it up in one paragraph... unless your intent is to create a diversion, which is your intent.
Pahoran wrote:
Which is precisely what I did do. I told the truth and refused to be bullied by your threats and accusations.
Now the victim card is played. You did answer the question in this response.. for the first time. It was an incorrect answer based on nothing but false claims, but at least you finally responded to the question asked.
Pahoran wrote:
Your arrogance is exceeded only by your malicious cunning. I am not bound by your selection of data; the "intellectually honest" answer is the truthful one.
I heard you the first four times you played the sympathy card... pathetic.
question asked wrote:
who was "I" in the Ham part of the Kinderhook translation as posted from Mormon history on page 372 in May of 1843? The name of the person who said those words, was _____________________ (insert name here).
Pahoran wrote:
Unknown. The fact is that the "I" upon which you rest the entire weight of your intellectually dishonest argument is not found in the document from which that passage is sourced. Naturally the truth doesn't serve your dishonest agenda, so you, in the ultimate act of intellectual dishonesty, try to exclude the truth from the discussion; but it didn't work.
You just contradicted yourself. When you said,"The 'I' is obviously William Clayton; he traced the plates into his journal" what did you mean? Also, please address the data presented which states those words were said by The Prophet.
Pahoran wrote:
You lose.
We're just getting started Pahoran. You are backed into a corner with contradiction at the root of your answer to the question asked, failing to acknowledge the data presented. I suspect you'll flee the discussion now, because in here the mods won't chime in to help you. You need help... support, don't you? You could just clarify your answer and we'll see who wins, but it's not a game Phaoran, just what is true vs. what is false based on facts that support why we disagree on Mormon history.
Pahoran wrote:
And don't bother answering the CFR; I now know exactly what Simon did. He answered the question truthfully, and you pouted like a spoilt brat and threw a tantrum, screaming about "intellectual disonesty!"
And the drama queen inserts a :highfive: that's basically a flare shot in the sky in a desperate plea for help. I'm sure Rapunzel will come to your side in a show of support, because you do need the help. In response your demands, Simon failed to answer the question asked. Again, responding to the question asked doesn't constitute an answer. Simon did say the Prophet "may" have been tricked, but that was the extent of the answer. Simon also claimed there was tangible evidence to support the truth claims in Mormonism, which he failed to back up with anything but a link to a Mormon site which he claimed contained the evidence he stated existed... without any mention of what it was. In short Pahoran, if you're looking for some outside help, you may want a more credible source to help support your team effort.
Pahoran wrote:
In the which, you lied. Shamelessly.
...more drama, for at least the fifth time.
Pahoran wrote:
I suggest you don't try to bully me again. You're far too much of a wuss to intimidate me.

Regards,
Pahoran
You Mormon guys and the childish insults. Keep it up Pahoran, it only shows the lengths you need to go to to answer a simple question. The internet is a shield and lets the Simon types play hero, but all I'm looking for is an answer. Can you explain why the history of the church states,
Comments of the Prophet on the Kinderhook plates
? Wasn't the Prophet's name Joseph Smith? Wouldn't that mean that "I" in the statement,
I have translated a portion of them, and find they contain the history of the person with whom they were found. He was a descendant of Ham, through the loins of Pharaoh, king of Egypt, and that he received his kingdom from the Ruler of heaven and earth
was Joseph Smith?
Thanks for answering the question Pahoran... I disagree (based on the facts presented) with your contradictions regarding who "I" was, or that there's any doubt of who "I" in claiming it's unknown.
Have a nice day.